Posted June 16, 2022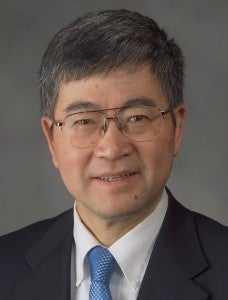 Dr. Ge Wang has been selected as the recipient of Sigma Xi's Walston Chubb Award for Innovation. Sigma Xi, The Scientific Research Honor Society, is the international honor society of science and engineering. One of the oldest and largest scientific organizations in the world, Sigma Xi has a distinguished history of service to science and society for more than one hundred and twenty five years.
Since 2006, Sigma Xi has presented the Walston Chubb Award for Innovation to honor and promote creativity in science and engineering. For the purposes of the award, innovation is defined as research into new areas of potential scientific importance, a novel approach to a long-standing problem in science or engineering or research that may create a new methodology of importance to science or engineering. In addition, application of expertise and insights from one area to advance another scientific discipline, or creative solutions to an important interdisciplinary problem also qualify as innovations. 
More details about the award can be found here as well as a list of former awardees:
https://www.sigmaxi.org/programs/prizes-awards/walston-chubb