Carolina Vivas-Valencia, Ph.D.
Postdoctoral Fellow
Harvard School of Medicine and Massachusetts General Hospital
Isermann Auditorium, CBIS, Rensselaer Polytechnic Institute
Wed, January 26, 2022 at 2:00 PM
Health care has become a data-intense industry with billions of data generated at numerous healthcare encounters on a daily basis through wearable devices, medical images, and from biomedical and biobehavioral research studies. These data are essential to driving improvements in population health to address issues related to cost, quality, and outcomes and promote personalized medicine and precision health. Over the past 20 years, the opioid epidemic has been responsible for numerous cases of overdose deaths among Americans and worldwide. Furthermore, the opioid overdose epidemic has not impacted communities equally, with increased barriers to care access in an already fragmented system. This work takes a step towards applying data analytics for knowledge discovery using health insurance claims data to understand opioid use disorder and its associated harms. The first part of the presentation will focus on studying the interactions between prescription-opioid doctor-shoppers and providers prescribing opioids under the influence of prescription opioid prescribing guidelines/regulations. The second part looks into health care disparities by examining the impact of social determinants on opioid user disorder diagnosis and treatment. These two studies investigate the impact of current public approaches on the opioid overdose epidemic and inform policymakers and the general community about the social and structural determinants affecting communities and populations vulnerable to the epidemic.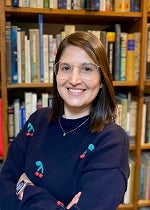 Carolina Vivas-Valencia is a postdoctoral fellow at Harvard School of Medicine and the Massachusetts General Hospital's Institute for Technology Assessment.  She received her PhD and master's in biomedical engineering from Purdue University. Her research focuses on building innovative data-driven solutions to improve community-based health problems. Her work has leverage reimbursement claims data to develop epidemiology models to predict health risks for vulnerable populations and study the impact of social determinants on care access and outcomes. Carolina has also been appointed a LatinX Trailblazer in Engineering Fellow by Purdue's College of Engineering, and recently received the John W Anderson Foundation Scholarship, for her research contributions in healthcare engineering.